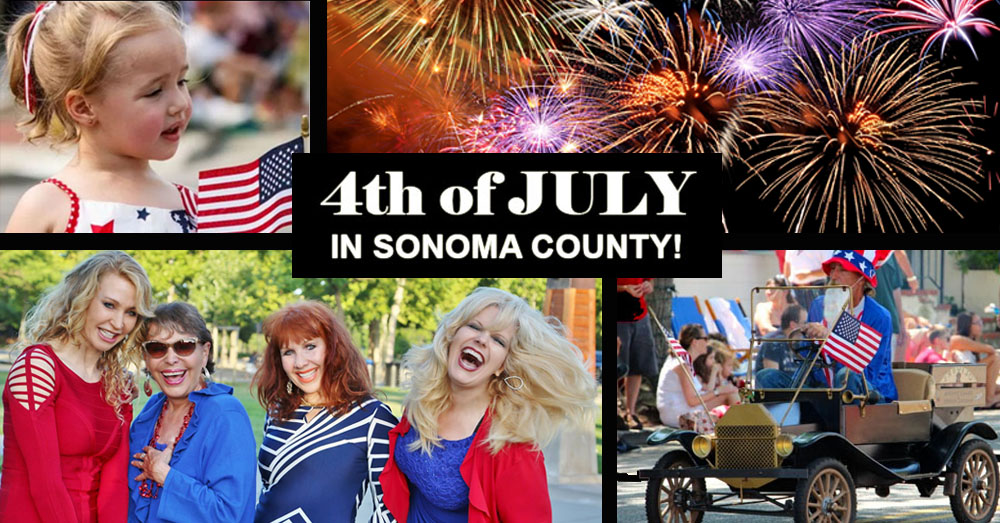 Family fun and fireworks! Celebrate Independence Day Sonoma County-Style!
Sat., June 30, 12-5pm
July 4th Weekend Celebration at Monte Rio Beach
Big Rocky Games for Children and Monte Rio Firehouse BBQ.
Monte Rio.
FIREWORKS RESCHEDULED – Sat., June 30, 3-10pm
Guerneville Fireworks and Independence Day Celebration
Fireworks rescheduled. May be rescheduled for July 6 or 7. Click for details.
Enjoy food and entertainment, then at dusk, gather with everyone along Main Street for the fireworks over the river.
Guerneville.
Sun., July 1, 11am – 4pm
Penngrove Fourth of July Celebration and Parade
The "Biggest Little Parade in Northern California" is as small-town America as you can get!
Penngrove.
Sun., July 1, 12-10pm
July 4th Weekend Celebration at Monte Rio Beach
Games, BBQ, Boat Parade, Water Curtain and FIREWORKS!
Monte Rio.
Sun., July 1, 9:30pm
Fireworks Over Bodega Bay
The display can be seen from all around Bodega Bay.
Bodega Bay.
Tue., July 3, 4- 10pm
Windsor Kaboom Independence Day
With musical performances from Foreverland, The electrifying 14-piece tribute to Michael Jackson, Pat Jordan and MC Danno at Froggy, food, and fireworks!
Windsor.
Tue., July 3, 5:30-10pm
July 3rd Fireworks Extravaganza & Music Festival 
Featuring live music, dancing, free games and relays, food, a fun raffle for prizes, and the fireworks!
Sebastopol.
Wed., July 4, 7am -2pm
Kenwood 4th of July Celebration & Parade 
Pancake Breakfast & Silent Auction, Kenwood footrace, Hometown Parade, Rotary Club BBQ.
Kenwood.
Wed., July 4, 10am -10pm
Sonoma Old-Fashioned 4th of July Parade & Celebration
Parade, festival, and fireworks! Named eighth best celebration in the country!
Sonoma.
Wed., July 4, 10:30am – 1:30pm
July 4th Kids Parade and Duck Dash
Plus live music and activities for all including; games, races, face painting, and special guests.
Healdsburg,
Wed., July 4, 12- 6pm
101 North Brewing 4th of July Block Party and Auto Show
Live music, food trucks and vendors, hot-rod vehicle demos, and auto awards; a benefit for Sonoma County Fire Relief Fund.
Petaluma.
Wed., July 4, 12- 3pm
4th of July Kickoff to Peacetown Summer Concert Series
The Peacetown Summer Concert Series kicks off on July 4th with an all-day family fun day.
Sebastopol.
Wed., July 4, 3-10pm
Red, White & BOOM! Santa Rosa
Enjoy an afternoon and evening of food, live music, and fun for the whole family, followed by an amazing fireworks show!
Santa Rosa.
Wed., July 4, 5pm – 10:30 pm
Petaluma Fourth of July Fireworks Festival
Live music, food booths and entertainment before the fireworks show.
Petaluma.
Wed., July 4, 7:30-9:30pm
4th Of July Fireworks Spectacular – Transcendence Theatre Company and the Santa Rosa Symphony
Be amazed by the largest fireworks display in Sonoma County, with our most exciting 4th of July program to date!
Rohnert Park.
Wed., July 4, 9pm
Cloverdale Lions Club 4th of July Fireworks
The Lions Club presents a fantastic fireworks show. The fun starts at dusk, but get there early.
Cloverdale.
Wed., July 4, 9pm
Healdsburg Fireworks
At Healdsburg High School. Presented by The American Legion Sotoyome Post 111.
Healdsburg.